Hollyhock House, designed by Frank Lloyd Wright in 1919-1921, crowns a knoll called Olive Hill in East Hollywood. Once it was surrounded by citrus fields, now Hollyhock House and the small shady park it inhabits is hemmed in by LA sprawl: strip malls, gas stations, fast-food joints, the endless growl of traffic. The views from the hilltop stretch from the imperial towers of downtown LA to the Griffith Observatory in the Hollywood Hills. The commission for the house came from Aline Barnsdall, an oil heiress, who wanted Wright to build a complex of buildings on the site–a theater, art gallery, concert hall, cinema–to enrich the cultural life of Los Angeles. But the doyenne and the architect fell out before construction even began. Wright headed to off Japan to build the Imperial Hotel and oversight of the Hollyhock project was left to his radical young protegé, Rudolph Schindler, who felt the decorative Mayan design was a minor retreat from Wright's modernist aesthetics. (Wright and Schindler were both uncompromising iconoclasts, but Schindler designed the more comfortable furniture. Alexander Cockburn, who adored them both, described Wright as "a little man who hated chairs.") Barnsdall lived in the house less than a year, before moving into a smaller Wright-designed house nearby, where Schindler had worked during the two-year-long construction, and then donated the entire site to the city of Los Angeles, which has never really known what to do with the bequest. What Wright understood at the time, and the city's boosters, managers and moguls failed to acknowledge for decades, was that LA's architectural past and future pointed south, to Mexico and Central America.
On the sunny day I visited, there were maybe 100 people sprawled across Olive Hill, doing yoga, drinking wine, vaping and photographing the Hollywood sign. Few seemed to notice the iconic structure, now barricaded behind an unsightly and forbidding fence. Barnsdall complained that the house was dark, moist and tomb-like. In fact, for a structure with so few windows natural light flows through the building, softening the edges of the interior, leaving few dark corners and giving the living quarters a warm, golden tone. Wright was 54 when Hollyhock was completed. He was to build only seven more structures in the LA area, including the Ennis House, which can be seen clinging to the Hollywood Hills from the grounds of Olive Hill. Wright's Mayan structures aren't exactly dead ends, more like exuberant follies, expensive case studies. Remarkably, Frank Lloyd Wright's most innovative work was ahead of him and the spacial lessons and building techniques he learned in Los Angeles he would put to creative effect in his later masterpieces: Taliesin West, the Usonian houses and Falling Water. But LA belonged to his three understudies: Schindler, Richard Neutra and John Lautner, who would soon redefine modernist architecture. Hollyhock remains, a house out of place and out of time, a lovely manicured ruin on a hill, under siege from all sides. – JSC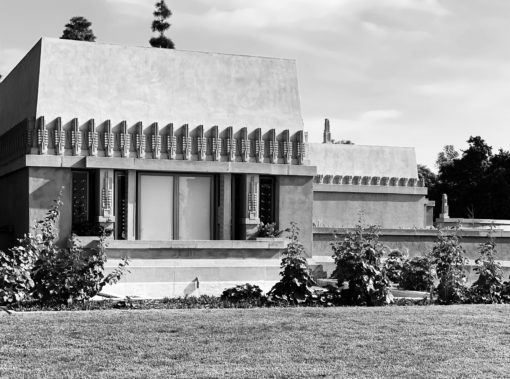 All photographs by Jeffrey St. Clair.