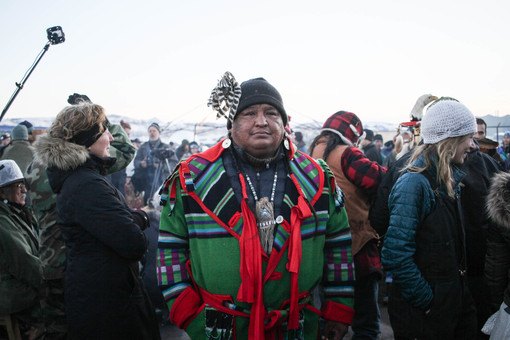 On December 4, the Army Corps of Engineers and Obama Administration temporarily halted the Dakota Access Pipeline construction along its proposed route under Lake Oahe, which will threaten the drinking water supply of the Standing Rock Sioux. On January 24, President Trump signed an executive order resuming construction of the pipeline. The Standing Rock Sioux Tribe have denounced Trump's order, calling for his administration to "honor our treaty rights and provide a fair and reasonable pipeline process," Standing Rock Sioux Tribal Chairman Dave Archembault told the Guardian.
On January 20, the Standing Rock Sioux Tribal Council "unanimously voted to support the district of Cannon Ball in asking all Dakota Access Pipeline protesters to leave the area and canceling plans for a nearby winter camp," reported the Bismarck Tribune. "Cody Two Bears, the Cannon Ball district representative to the tribal council, said the district is requesting federal law enforcement aid in removing protesters from the district and setting up posts blocking those who do not live or work in the district from entering. The district requests these actions be taken in the next 30 days."
Ed Blackcloud was the lone dissenter at the council meeting, criticizing the council's actions, insisting it was wrong to force the protesters to go home. The founder of the original protest camp, Sacred Stone Camp at Standing Rock, LaDonna Tamakawestewin Allard, refused to attend the council meeting and has said she does not intend to close down her camp, which lies on her own private land. Allard formed a 510c3 with plans to build a permanent green energy camp at the site.
In addition to this recent bad news on two different fronts for water protectors against the Dakota Access Pipeline, an EPA investigation found that 40,000 pounds of rat poison were illegally distributed on ranches very close to the Standing Rock camps. The Save the Buffalo Nation issued a press release advising Standing Rock water protectors they may have bene unknowingly exposed to the rat poison chemicals;"many people have come back from the camps reporting symptoms and illnesses of what is referred to as the "DAPL" cough, bloody noses, fatigue and some people have reported to have coughing up blood."
"We put our minds, bodies, and spirits on the line to save the water and sacred ground and many of us will suffer not only permanent bodily damage like Sophie Wilansky and Sioux Z AKA Vanessa Dundon , and those who's lives will be irrevocably changed like Red Fawn who is still incarcerated under false pretenses as POW by Morton County Sheriffs Dept, we will suffer the effects of this battle for life," wrote Ancestral Pride in a statement released in response to Trump's executive order and the Standing Rock Tribal Council's decision to close the camps, though it is unclear if and to what extent the council will change their decision given Trump's recent actions. "This is an anti-climatic and disheartening end to what was one of the most inspiring, empowering, and massive movements for Indigenous Peoples in here in so called "North America" in recent history. The real question now is how will those steadfast and brave souls who have pledged not to leave until the Black Snake is dead be treated by the feds that have been called in by Standing Rock Sioux Tribe and given permission to oust them? There have been recent requests for support people to come back to the camps, will those calls be answered?"