A Florida trial attorney recently filed a consumer class action lawsuit against McDonald's claiming that the burger giant was charging consumers the same amount for a quarter pounder as it charges for a quarter pounder with cheese.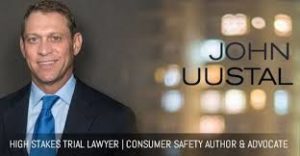 To John Uustal, a fellow Florida trial lawyer, the case sounded like a frivolous lawsuit – the kind that corporate lobbyists use to mock and undermine the civil justice system.
Uustal took to his blog last month and offered a $100,000 reward for evidence corporations were behind the case against McDonald's.
But then last week, Uustal changed the reward.
Now, Uustal is offering "$100,000 for the first person who provides proof that leads to a judgment finding that a lawsuit was filed in the last three months in the Southern District of Florida as a result of a corporate conspiracy to manufacture frivolous lawsuits," Uustal told Corporate Crime Reporter in an interview last week.
"Of course, every case deserves to be decided on the law and the evidence," Uustal said.. "But I look at some of these lawsuits, and I cannot imagine that they have any chance of success. When they fail, the lawyer will have lost plenty of time and money."
"Why would any lawyer try to lose money?"
"We know that big corporate interests have successfully attacked the credibility of our civil justice system by highlighting frivolous lawsuits. They do it so they can eliminate truly righteous lawsuits."
"It's worth remembering that these righteous lawsuits are the only hope for justice against these powerful corporations when they knowingly decide to act in ways that kill people. That's why I'm writing a book called Corporate Serial Killers."
"Frivolous lawsuits are poison. They not only create unfair costs for innocent defendants, they also allow powerful corporate interests to create a smoke screen to hide their truly despicable conduct."
"When a frivolous lawsuit gets filed, that's bad enough. But is there any possibility this is even worse?"
"Could an entire lawsuit be a scam? A scam to create more smoke for corporate lobbyists so they can destroy our rights to get justice against a manufacturer who knowingly and intentionally refuses to fix a defective product that kills, or against a bank that steals money from its customers?"
"Look at how the tort reform lobby is already using this new Quarter Pounder lawsuit. They're perpetuating the idea that lawyers are shifty scammers. They are brainwashing us to think that lawsuits in general are frivolous."
"Corporations point to suits like this to claim that the civil justice system must be 'reformed.' And they get laws passed that supposedly 'reform' the civil justice system but which, in reality, eliminate or limit righteous lawsuits."
"The campaign to destroy our civil justice system by using frivolous lawsuits as a Trojan Horse has already been so successful that massive corporations essentially enjoy a new license to kill."
"Some people are wondering if there is a lawsuit scam, designed to further weaken the power of the people against wealthy corporations. It seems impossible to believe, but if it's true, the public deserves to know."
"If there's any evidence at all, I don't have it. But if it exists, I'd like to see it. So I'm offering, on JohnUustal.com/conspiracy-evidence, up to $100,000 to the first person who brings me proof that leads to a judgment finding that a lawsuit filed within the last three months in the Southern District of Florida was a scam created in a corporate conspiracy to destroy our rights."
"To be absolutely clear, this is the only way I can think to get evidence about the potential conspiracy that I have heard lawyers speculate about. I have no evidence that the conspiracy exists, and I am not implying that it does. Moreover, even if it exists, I can't imagine that the recently filed McDonald's case is a part of it."
"But I feel that there is more than we yet know about the corporate strategy against frivolous lawsuits, and I want to find out whatever I can."
"Think of poison ivy for a moment. It's a plant, but we all know it'd be ridiculous to say that all plants are bad just because some few are poisonous. Lawsuits are like that. Some few are poison. But don't be fooled. Lawsuits, like plants, are good. Without them, we'd be in big trouble. The courtroom is the only place in the world where the people hold powerful corporate interests to account."
"So, don't let those corporations fool you into thinking that lawsuits are the problem. Because if you get scammed like that, you'll let them treat all lawsuits, even the most righteous ones, as frivolous."
"God help us when corporations, without bodies or souls, have all the power and no accountability. I've spent my entire career going up against companies that hurt and kill people in the name of profits. It's time to fight back."
His upcoming book – Corporate Serial Killers – is based on cases he has come across in his practice over the years.
"There are many ways that the new laws allow corporations to take care of customers. But the most serious cases are when corporations make decisions they know will result in people dying. And they know they will get away with it. I wanted to focus on cases I know about where corporations made decisions where they knew people would die. And how the law encourages that today."
"Under the current law, the corporations know they will get away with it. Several things have come together to create this situation. The US Supreme Court has found that corporations have a constitutional right not to be subject to punitive damage awards of more than a single digit multiplier of the compensatory damages."
"And the corporations do the math. They look at how much it will cost per person who dies or get injured. And they compare that with how much it would cost for them to fix the problem. Because of this limit on punitive damages, there are now many more corporations who will be financially better off if they make the decision to let people die."
"If five people die, and there is a million dollar judgment for each of their families. That's $5 million. If the evidence is clear that this corporation was reckless and made intentional decisions, there could be additional punitive damage awards. Let's say it's two or three million dollars allowed by this new constitutional corporate right. You might be up to $15 million for those five people. Some of them may never bring a lawsuit. Some of them will lose because of the way that big corporations litigate. They learned from the tobacco companies. They understand that scorched earth tactics will result in a situation where most plaintiffs attorneys can't afford to bring a case and they fold. There may be only two or three who get a verdict. Maybe some of them are settled for half a million dollars."
"They end up estimating maybe $7.5 million to kill five people. If they have a lot of product and the fix is going to cost $30 or $40 or $50 each, it quickly becomes cheaper to let those people die."
"Twenty years ago, the jury had the duty to deter the company from ever doing it again. If the corporation walked away with an extra $50 million because they didn't fix the problem, the jury would take the money back to make sure they don't make money by killing people. Now, the jurors can't do it."
"And it really only applied to large corporations making hundreds of millions of dollars by their misconduct. And the civil justice system has become powerless to deter that kind of conduct."
If the civil justice is powerless, what would you propose to reign in corporate power?
"I face that question often when I'm speaking. And the answer is – I don't know. To make myself feel better, I look back and see there are times when we didn't know the way forward. But people kept working until something happened."
"When Thurgood Marshall started working in the 1930s, he was losing a lot. But he kept at it until the culture started to change. Then he started to win. Similarly here, the culture has to change. People have to begin to realize the value of the righteous lawsuit. So much of the freedoms and protections we enjoy are based on lawyers and lawsuits. Until they understand that, I don't think we will make much progress."
Is this your first foray into public advocacy for victims of corporate crime?
"Yes."
And why did you decide to do it?
"It came down to the sick feeling I get day after day telling people that the law can't help them. It wasn't like that when I first started as a lawyer."
You are a relatively young trial lawyer. Is this a generational thing?
"Maybe. Many lawyers are worried about it and talk about. But they are just not clear what to do about it."
[For the complete Interview with John Uustal, see 34 Corporate Crime Reporter 24(12), Monday June 11, 2018, print edition only.]