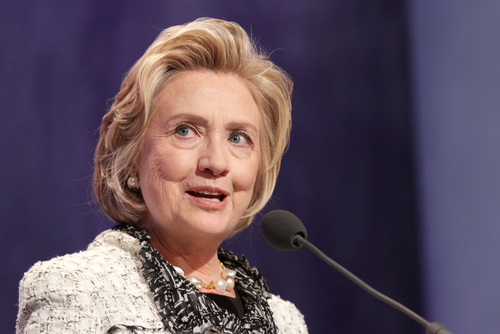 You don't have to be a blinkered Bernie-bot to recognize the toxicity of Hillary Clinton and call her out on it, contrary to the party faithful's insistence that the widening chasm between 'Bern and Hill' (Burn in Hell?) supporters is weakening the chances for a Democratic victory in November. Clinton's less than stellar (Okay, gloves off . . . *abysmal*) record bears scrutiny and condemnation in equal measure.
Let's start with her ruinous foreign policy initiatives during her reign as Secretary of State, along with the untold misery her erratic, war-mongering 'diplomacy' has brought to the millions of people living in abject poverty within the political vacuum she helped create in the wake of her vanity appointment as Secretary of Failed Mid-East States. Not to mention the millions of dollars she has received for kneeling before the financiers and Israeli lobbyists who cynically fete her, knowing she will prioritize their interests above the needs of her own contemptible subjects.
While we're at it, why not take a look inside the foundation, or rather, the off-shore bank account that she and her equally corrupt spouse oversee to launder millions of dollars on behalf of their Wall Street cronies in the name of "philanthropy"? On second thought, better not, because some DNC apologist might bite your head off, using thinly-veiled class-based fear mongering as a cudgel to keep the party faithful in line. If you don't support Clinton, then you are just begging for a Trump takeover of government, and where would that leave people who wear yoga pants? Long answer: At the mercy of people who wear baseball caps. Short answer (courtesy of Madeleine Albright): Hell.
Ask a Haitian how much the Clinton Foundation, which took control of Haiti's rebuilding efforts after its devastating earthquake have improved the lot of the people there – beyond helping big name American apparel makers to set up sweatshops paying pennies per hour to newly enslaved garment workers. The Clinton Foundation and others like it, merely exist to deter genuine grassroots resistance in impoverished nations from getting any funny ideas about sovereignty and self-determination. "It Takes a Global Pillage" is how Mrs Clinton might lay it out in her latest collection of bedtime stories for bankers.
Libya – a fully functioning state before Lady Klynton Kissinger-Sachs (as she is known on Wall Street) got her claws into it, was on the verge of leading an African Union, which would enable African countries closer economic cooperation, and would have used the Euro as a default currency for oil trade, rather than the petrodollar. And we all know what happens to "dictators" who attempt to upend the status quo for a more equitable share of the petroleum-based pie. This latest 'threat' to US hegemony in the region is the reasoning behind the Clinton Cabal's insistence on taking down Ghadafi. The hawkish liberal "philosopher" Bernard-Henri Levi has boasted recently of his 'covert' mission (with the full knowledge of Clinton's State department) to turn a journalistic assignment for a French magazine into a blowback-inducing misadventure to funnel funds to an anti-Ghadafi militia (ISIL). (See Diana Johnstone's Queen of Chaos for more.)
You only have to look at the power couple's hold on the elite branch of permanently entrenched, bullet and election-proof officials in government to understand why the current president gave the aggrieved former first lady the keys to the kingdom, as it were, as a consolation prize for her much deserved defeat in 2008. The hundreds of millions of dollars siphoned through their "charitable" foundation, ultimately earmarked for the corporations who outright bought a former president and his conjugal cohort helps explain the Clinton's enduring presence in the corridors of power. They have exclusive access to a bottomless, bill-stuffed bank vault that will eventually yield favorable outcomes to the corporate donors looking for a return on their investment.
Mrs Clinton's repeated, ham-fist attempts to solidify her power with an always just-out-of grasp presidential bid seems doomed this time around after a series of gaffes involving surrogate mouthpieces like Madeline Albright and Gloria Steinem, adding to her woes over the mishandling of her government email account, her ties with Goldman Sachs, Monsanto and Walmart, and the influence peddling and profiteering she engages in to cash in on her woeful and reckless tenure in and out of the White House. Unsurprisingly, Clinton's "lean in for the kill" feminism is a driving a stake into the heart of her "First Woman President" aspirations as well as a wedge between herself and young women voters unimpressed with tarnished, cobweb-covered establishment stalwarts like Steinem and Albright insulting their intelligence.
Despair not, though, for this beleaguered "public servant" now taking another free-fall in the approval ratings. Her failures will continue to buoy her to precisely the low bar level of a political system that by design elevates hawks and shoots doves. Clay pigeon Bernie Sanders merely serves as target practice. The implosion of Clinton II's latest candidacy will unlikely deter the "better half" of this corrupt Clinton equation from seeking a third term in office. It is, after all, a foregone, ermine-trimmed conclusion orchestrated by the Deep State and funded by the taxpayer.