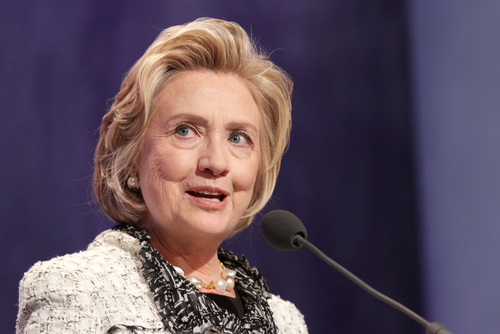 Last week, I handicapped the Bernie Sanders campaign. He since pulled off an upset in the Iowa Caucus, where he overcame a 40-point lead by Hillary Clinton (the day before, polls said he'd lose by two or three points) to a virtual tie so even that coin tosses and bureaucratic incompetence may have made a difference.
It's a two-person race, with Hillary still in the lead nationally. But Bernie has momentum and enthusiasm. Can the Independent Senator from Vermont catch up? Democratic primaries are a referendum on the status quo, so Sanders' chances depend at least as much on Secretary Clinton's weaknesses as on his strengths.
Here's what Hillary has going for her — and not.
The Good
As in her (losing) 2008 run against Barack Obama, Hillary's strategists are selling competence and experience. "A progressive who gets things done," she is calling herself.
Scratch a little, however, and there's precious little evidence of substantial things she actually got done. Googling phrases like "Hillary Clinton's biggest accomplishments" yields lists that include "most-traveled Secretary of State" and "gave a speech in Geneva standing up for gay rights."
Hillary's "achievements" are activities, not accomplishments.
Fortunately for her, most voters don't question the Been Everywhere, Done Everything meme. She does have one hell of a resume: First Lady, Senator, Secretary of State. Though, for the life of me, I don't understand why Bernie's Mayor, Congressman and Senator resume (longer in total, more reelections) doesn't count.
When you talk to people who are seriously considering casting their votes for Clinton, many say they like that she's a woman president straight out of central casting — tough and strong, with the slightly dystopian Corporate Leader wardrobe to boot. Here's to you, Jodie Foster in "Elysium."
Clinton knows everyone in DC. She knows world leaders. She won't need months to settle into the White House.
The Bad
The trouble for Hillary is, this is an antiestablishment year. Donald Trump, Ted Cruz and Bernie Sanders are benefitting from an electorate whose simmering disappointment over the replacement of Hope and Change in 2008 with the Too Big To Fail bank bailouts of 2009 is finally being articulated into rage at the ballotbox. As Obama's cabinet member, that's on her.
Clinton can't run away from her Beltway insiderdom. To her credit, she isn't trying. To the contrary, she's hugging Obama, incrementalism, head-over-heart rhetoric as hard as she can. She's just the wrong candidate for this year. Which means that, if she wins the nomination, she'll go into the general election campaign as bruised by Bernie Sanders as Jimmy Carter was in 1980 after facing off against Ted Kennedy. Many Bernie Sanders Democrats will sit on their hands in November if she's the nominee.
Hillary isn't stupid. She knows her formidable organizational advantages — cash, a SuperPAC, party backing, endorsements by establishment organizations including trade unions and corporate media, which have enforced a blackout of Bernie coverage — no longer guarantee her once "inevitable" campaign. So she's coopting Bernie's positions on healthcare and other issues of interest to progressives.
Problem is, voters usually pick pure steak over mystery meat.
The Ugly
Obama's famous 2008 slight that Hillary was "likeable enough" turns out not to be so true. On the campaign trail and on TV, Hillary is charmless. Which is why, the more Americans get to know her, the more of her supporters migrate to other candidates. She can't up her personality game.
With the liberal/progressive base of Hillary's party agitated at 1960s levels, she can't explain away her conservative record. She's never met a free trade deal or a war she didn't like (See Diana Johnstone's Queen of Chaos for the goods on HRC's foreign policy blunders); millions of jobs and people are dead as a result.
She says she's been fighting for progressive causes for years, but when? Where? Even on the micro-bore social "wedge" issues that her husband relied upon as president, she's in trouble. Gays won't forget her support of the Defense of Marriage Act. Straights think she's a reed in the political wind.
But Hillary's biggest flaw as a candidate isn't policy. It's her failure to internalize two truisms of politics.
Number one: Candidates win by projecting an optimistic vision of the future. When she criticizes Bernie Sanders for advocating changes that would be hard to get through Congress and expensive to pay for — free college tuition, Medicare for everybody — she projects a radical pessimism that makes many ask, why not? Why can't the country that invades everyone, that sent a man to the moon, provide the same social benefits as most other nations?
And number two: Elections aren't about the candidate. They're about the people. This goes back to when tribes elected chiefs. Vote for me, and buffalo will rain from the sky! We'll be fat! Water everywhere! That's a winning campaign — not, hey, as the first elder from the Whatever Clan to become chief, I'd make tribal history and wouldn't that be cool.
Obama didn't win in 2008 by running as Future First Black President. He projected a sunny, winning disposition and a sense of the future we could buy into. Hope! Change! Yes We Can! Hillary's campaign is all about her, not us.
That's political suicide.