Matching Grant Challenge
We're slowly making headway in our annual fund drive, but not nearly fast enough to meet our make-or-break goal.  On the bright side, a generous CounterPuncher has stepped forward with a pledge to match every donation of $100 or more. Any of you out there thinking of donating $50 should know that if you donate a further $50, CounterPunch will receive an additional $100. And if you plan to send us $200 or $500 or more, he will give CounterPunch a matching $200 or $500 or more. Don't miss the chance. Double your clout right now. Please donate.
Yes, these are dire political times. Many who optimistically hoped for real change have spent nearly five years under the cold downpour of political reality. Here at CounterPunch we've always aimed to tell it like it is, without illusions or despair. That's why so many of you have found a refuge at CounterPunch and made us your homepage. You tell us that you love CounterPunch because the quality of the writing you find here in the original articles we offer every day and because we never flinch under fire. We appreciate the support and are prepared for the fierce battles to come.
Unlike other outfits, we don't hit you up for money every month … or even every quarter. We ask only once a year. But when we ask, we mean it.
CounterPunch's website is supported almost entirely by subscribers to the print edition of our magazine. We aren't on the receiving end of six-figure grants from big foundations. George Soros doesn't have us on retainer. We don't sell tickets on cruise liners. We don't clog our site with deceptive corporate ads.
The continued existence of CounterPunch depends solely on the support and dedication of our readers. We know there are a lot of you. We get thousands of emails from you every day. Our website receives millions of hits and nearly 100,000 readers each day. And we don't charge you a dime.
Please, use our brand new secure shopping cart to make a tax-deductible donation to CounterPunch today or purchase a subscription our monthly magazine and a gift sub for someone or one of our explosive  books, including the ground-breaking Killing Trayvons. Show a little affection for subversion: consider an automated monthly donation. (We accept checks, credit cards, PayPal and cold-hard cash….)
or
To contribute by phone you can call Becky or Deva toll free at: 1-800-840-3683
Thank you for your support,
Jeffrey, Joshua, Becky, Deva, and Nathaniel
CounterPunch
 PO Box 228, Petrolia, CA 95558
Trying to Destroy The Danger of a Good Example
The Unrelenting Economic War on Cuba
If it weren't bad enough that the U.S. has imposed an illegal embargo against Cuba for over 50 years, it has also tried to prevent those interested in learning about this embargo (more accurately termed ablockade because the U.S. aggressively enforces it against third countries to stop them from trading with the island) from reading Salim Lamrani's new book, The Economic War Against Cuba.  Thus, according to Opera Mundi, the U.S. Department of the Treasury, the Office Foreign Assets Control (OFAC) – the government agency tasked with enforcing the blockade against Cuba – seized the funds aBritish NGO, the Cuba Solidarity Campaign, attempted to wire to purchase 100 copies of this book from Monthly Review Press.  (1)  OFAC also demanded that this same NGO describe its relationship with Cuba in detail.   This episode is emblematic of the absurd lengths to which the U.S. government will go to stop the world from dealing with Cuba.
As an initial matter, author Salim Lamrani, a professor at the Sorbonne in Paris, explains that the U.S. war against post-revolutionary Cuba began on March 17, 1960 – one month before Cuba established relations with Moscow.   Lamrani relates that this war, declared by President Eisenhower, was "built on several pillars: the cancellation of the Cuban sugar quota, an end to the deliveries of energy resources such as oil, the continuation of the arms embargo imposed in March 1958, the establishment of a campaign of terrorism and sabotage, and the organization of a paramilitary force designed to invade the island overthrow Fidel Castro."   This war would then be expanded by President Kennedy in 1962 to include the unprecedented economic blockade against Cuba – a blockade which continues to this day, over 20 years after the collapse of the Soviet Union.
This is important, for it demonstrates what Noam Chomsky has argued numerous times before:  that during the Cold War the U.S. intentionally pushed Third World countries guilty of declaring their independence from U.S. hegemony towards the Soviet Union so as to manufacture a convenient pretext for U.S. belligerence.  And, the blockade initially imposed by Kennedy did just that.   As Lamrani explains, "[o]n September 16, 1962, Kennedy developed a blacklist that included all ships having commercial relations with Cuba, regardless of their country of origin, and banned them from docking in a U.S. port.   These measures drastically reduced the links between Cuba and the Western World and increased the island's dependence upon the USSR."
Lamrani concludes that the results of this relentless 50-year blockade have cost Cuba more than $751 billion, and has "affected all sectors of Cuban society and all categories of the population, especially the most vulnerable: children, the elderly, and women.   Over 70 percent of all Cubans have lived in a climate of permanent economic hostility."
Indeed, the stated purpose of the blockade all along has been to inflict suffering on the Cuban people to achieve the U.S.'s political objective of regime – the sine a qua non of terrorism.  Thus, Lamrani quotes Lester D. Mallory, U.S. Deputy Assistant Secretary of State for Inter-American Affairs, who wrote on August 6, 1960:
The majority of the Cuban people support Castro.  There is no effective political opposition.  . . .  The only foreseeable means of alienating internal support is through disenchantment and disaffection and hardship.   . . .   every possible means should be undertaken promptly to weaken the economic life of Cuba . . . a line of action which . . . makes the greatest inroads in denying money and supplies to Cuba, to decrease monetary and real wages, to bring about hunger, desperation and overthrow of government.
According to this plan, which continues to this day, the blockade has caused immense suffering amongst the Cuban civilian population.   Nowhere is this more evident than in the field of medicine where Cubans are denied critical U.S. pharmaceuticals and other medical supplies – a huge deprivation given that the U.S., according to Lamrani, holds 80% of the patents in the medical sector.
And so, Lamrani sets forth a laundry list of examples in which Cubans have been deprived critical medical aid due to the blockade:
*Cuban children suffering from cancer of the retina cannot receive effective treatment because the surgical microscopes and other equipment needed for this treatment are sold exclusively by the U.S. company, Iris Medical Instruments.

*The National Institute of Oncology and Radiobiology in Havana cannot use radioactive isotope plaques for the treatment of retinal cancer as they are sold exclusively by U.S. companies, thereby requiring doctors to remove the affected eyes of children altogether rather than treat and preserve them.

*Nearly 1600 Cubans a year are denied effective diagnosis of cancerous tumors because Cuba cannot obtain the necessary German-made optical coherence tomography – an item prohibited by the embargo because it contains some American-made components.

*Cubans are denied the drug temozolomide (Temodar) necessary for the effective treatment of tumors of the central nervous system.

*Cuban children are denied the benefit of the U.S.-made Amplatzer device which could help them to avoid open heart surgery.

*Cubans were denied $4.1 million for treating AIDS, Tuberulosis and Malaria when these monies were seized by the U.S. from an NGO which had earmarked those monies for Cuba.

*Cubans were denied the funds designated by the United Nations Program for Development for Cuba's health care system when those monies were seized by the U.S.

*Cubans are denied critical drugs for treating bone cancer and HIV AIDS.
According to the New England Journal of Medicine, as cited by Lamrani, "The Cuban and Iraqi instances make it abundantly clear that economic sanctions are, at their core, a war against public health."  And still, as the Journal goes on to explain, Cuba has, against the formidable obstacles set up by the embargo, managed to maintain one of the best health systems in the world.  As the Journal notes,
The Cuban health care system . . . is exceptional for a poor country and represents an important political accomplishment of the Castro government.  Since 1959, Cuba has invested heavily in health care and now has twice as many physicians per capita as the United States and health indicators on a par with those in most developed nations – despite the U.S. embargo that severely reduces the availability of medications and medical technology.
And indeed, Cuba, despite the blockade, continues to give unprecedented assistance to other poor nations through its medical internationalism,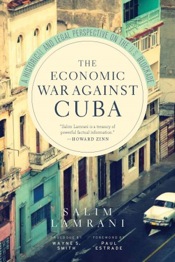 sending doctors to 70 different countries throughout the world, including to Haiti where, according to The New York Times, it has been on the forefront in the fight against cholera since the 2010 earthquake.  In addition, for the past 21 years, Cuba has been treating 26,000 Ukrainian citizens, mostly children, affected by the Chernobyl nuclear accident at its Tarara international medical center in Havana.
Imagine then, what Cuba could do if the U.S. blockade were lifted.   It is clear that the rulers of the U.S. have imagined this, and with terror in their hearts.
Indeed, Lamrani quotes former Cuban Minister of Foreign Affairs, Felipe Perez Roque, as quite rightly asserting:
Why does the U.S. government not lift the blockade against Cuba? I will answer:  because it is afraid.  It fears our example.  It knows that if the blockade were lifted, Cuba's economic and social development would be dizzying.   It knows that we would demonstrate even more so than now, the possibilities of Cuban socialism, all the potential not yet fully deployed of a country without discrimination of any kind, with social justice and human rights for all citizens, and not just for the few.  It is the government of a great and powerful empire, but it fears the example of this small insurgent island.
The next critical question is how can those of good will help and support the good example of Cuba in the face of the U.S. blockade.    Obviously, the first answer is to organize and agitate for an end the blockade.   As a young Senator, Barack Obama said that the blockade was obsolete and should end, and yet, while loosening the screws just a bit, President Obama has continued to aggressively enforce the blockade.   He must be called to task on this.   In addition, Congress must be lobbied to end the legal regime which keeps the embargo in place.
In addition, we must support Venezuela and its new President, Nicolas Maduro, as Venezuela has been quite critical in supporting Cuba in its international medical mission.   And indeed, one of the first things President Maduro did once elected in April was to travel to Cuba to reaffirm his support for these efforts.   It should be noted that Maduro's electoral rival, Henrique Capriles – who led an attack against the Cuban Embassy in Caracas during the 2002 coup — vowed to end support for, and joint work, with Cuba.
Furthermore, to help Cuba and its domestic and international medical programs, one can donate to Global Links (www.globallinks.org) which provides medical supplies which benefit both of these programs.
Finally, order a copy of The Economic War Against Cuba from Monthly Review.
Daniel Kovalik is a labor and human rights attorney, and teaches International Human Rights at the University of Pittsburgh School of Law.
Notes. 
(1)  http://operamundi.uol.com.br/conteudo/opiniao/29149/ong+britanica+e+vitima+das+sancoes+economicas+dos+estados+unidos+contra+cuba.shtml