Matching Grant Challenge
We're slowly making headway in our annual fund drive, but not nearly fast enough to meet our make-or-break goal.  On the bright side, a generous CounterPuncher has stepped forward with a pledge to match every donation of $100 or more. Any of you out there thinking of donating $50 should know that if you donate a further $50, CounterPunch will receive an additional $100. And if you plan to send us $200 or $500 or more, he will give CounterPunch a matching $200 or $500 or more. Don't miss the chance. Double your clout right now. Please donate.
Yes, these are dire political times. Many who optimistically hoped for real change have spent nearly five years under the cold downpour of political reality. Here at CounterPunch we've always aimed to tell it like it is, without illusions or despair. That's why so many of you have found a refuge at CounterPunch and made us your homepage. You tell us that you love CounterPunch because the quality of the writing you find here in the original articles we offer every day and because we never flinch under fire. We appreciate the support and are prepared for the fierce battles to come.
Unlike other outfits, we don't hit you up for money every month … or even every quarter. We ask only once a year. But when we ask, we mean it.
CounterPunch's website is supported almost entirely by subscribers to the print edition of our magazine. We aren't on the receiving end of six-figure grants from big foundations. George Soros doesn't have us on retainer. We don't sell tickets on cruise liners. We don't clog our site with deceptive corporate ads.
The continued existence of CounterPunch depends solely on the support and dedication of our readers. We know there are a lot of you. We get thousands of emails from you every day. Our website receives millions of hits and nearly 100,000 readers each day. And we don't charge you a dime.
Please, use our brand new secure shopping cart to make a tax-deductible donation to CounterPunch today or purchase a subscription our monthly magazine and a gift sub for someone or one of our explosive  books, including the ground-breaking Killing Trayvons. Show a little affection for subversion: consider an automated monthly donation. (We accept checks, credit cards, PayPal and cold-hard cash….)
or
To contribute by phone you can call Becky or Deva toll free at: 1-800-840-3683
Thank you for your support,
Jeffrey, Joshua, Becky, Deva, and Nathaniel
CounterPunch
 PO Box 228, Petrolia, CA 95558
A View of the Poorer Nations
The Lessons of the Global South
Vijay Prashad is fast becoming the historian of the Global South.  His books and articles discussing the relationships between the oligarchs of global capitalism and the people and institutions of those it manipulates into its money pit of debt are detailed discussions of the intricacies of those relationships.  His newest book, titled The Poorer Nations: A Possible History of the Global South, is as detailed and well-cited as anything written by Noam Chomsky.  Therein, Prashad turns the statistics and descriptions he writes into prose that is understandable and simmering with a justified rage at the robbery it describes.
Most fundamentally, Prashad's book is a full frontal assault on neoliberal capitalism. Deservedly, he spares no political party, bank, or government linked to this most devastating edition of capitalism. Whether the collusion was willingly engaged in or merely the result of an unwillingness to lose personal or political power, Prashad paints a sweeping indictment of those who want to rule the earth with little or no regard for most of its inhabitants.  While keeping firm hold to his left anti-imperialist foundation, Prashad acknowledges the shortcomings of social democrats in their attempts to compromise with the ravenous beast of neoliberal capital.  Naturally, these politicians and parties get some of the blame for the economic devastation caused by the banks and other machinery of that beast; Prashad saves the bulk of the blame, however, for its rightful targets: the IMF, World Bank, finance capital, and the men and women who operate that beast.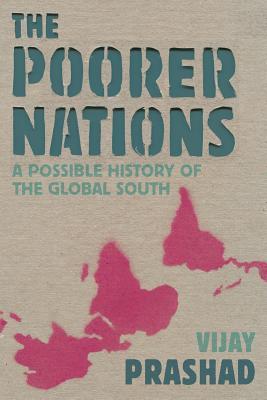 Since the crash of 2008, commentators have pointed to various financial manipulations from the ten years prior to the crash when looking for reasons for the crash. The shortcoming in this approach is clear.  One needs to go back much further.  The Poorer Nations does that.  In doing so, the role of financial capital in today's economic crisis can be better understood just by examining its role in the impoverishment of the global south and its role in the market crashes of 1989 and in Asia around the same time.
This rich history of the capitalist project's last several decades makes one thing clear.  The oligarchs of finance will do whatever it takes to maintain and, if possible, increase its profits.  Another thing that becomes clear in Prashad's telling is that capitalism is parasitical, constantly seeking new hosts to attach to and consume.  This is especially the case in its current configuration–a configuration dependent on the production of capital, not goods; and interested solely in increasing profit, not industry.  This stage of capital, based on credit and the accumulation of debt, is known as neoliberalism.  It is the curse of the modern world and may well be its downfall.
Reading The Poorer Nations in the current situation, it is difficult not to consider that Prashad's history might very well be our future.  The fate of the nations he describes: indebtedness, deindustrialization, destruction of agrarian economies; all of these and more can be seen in the daily newspaper.  The nation of Cyprus is but the latest country to suffer a parasitical raid of its assets.  In this case, the finance capitalists went straight to individual savings accounts.  The theft becomes more blatant with each succeeding crisis.
The Poorer Nations makes clear what many have always said and even more have suspected.  This transfer of wealth made possible with (at the least) the tacit complicity of many European social democrats and democratic socialists.  All too many of these individuals and parties were involved at the very beginning of the neoliberal project.  Their belief in capitalism and the importance of profit insured their rejection of the welfare states they championed.  Perhaps the only social democrat in power during the period Prashad discusses who did not fold almost immediately when Wall Street made began its final play to take over the world economy was the West German Willy Brandt.  Unfortunately, his play was too late.
Even though other economic methods of organization have proven to be more beneficial for everyone but the greediest, argues Prashad, the faith in the market by those who benefit from it the most denies that fact.  This includes the various national upper classes as well as the international financiers.  Although, capitalism does not require greed to flourish, it certainly ensures that it does, especially in its current phase.  As to be expected, those without qualms benefit the most from this fact. Prashad relays their story too; leaders and officials of the global south spending their nations treasury (earned and borrowed) on luxury vehicles and villas and military hardware to protect the assets of the powerful.
Despite the dismal tale told in these pages, Prashad ends The Poorer Nations with hope.  In his final chapter he discusses the situation of the world's dispossessed, whose numbers have multiplied exponentially as a result of the financial and political machinations described in the previous chapters.  Many of these millions live in urban slums of their own creation and work at low-paying jobs or in marginalized activities.  Recently, however, they have begun to realize the political power of their numbers.  This, writes Prashad, is where the hope for a new and more just world is to be found.  It is the power they hold that can change the world and wrest it back from the ecological and impoverished future the masters of finance and their political and military lapdogs are heading towards.
Ron Jacobs is the author of the forthcoming novel All the Sinners, Saints. He is also the author of The Way the Wind Blew: a History of the Weather Underground and Short Order Frame Up and The Co-Conspirator's Tale. Jacobs' essay on Big Bill Broonzy is featured in CounterPunch's collection on music, art and sex, Serpents in the Garden.  His third novel All the Sinners Saints is a companion to the previous two and is due out in April 2013.  He is a contributor to Hopeless: Barack Obama and the Politics of Illusion, published by AK Press.  He can be reached at: ronj1955@gmail.com.